The Asian Infrastructure Investment Bank (AIIB) announced today that it has onboarded its 500th staff member. This significant growth milestone reflects the Bank's strategic business development approach to long-term sustainable growth. Part of its strategy is to invest in global talent to develop institutional capacity and provide its clients the services they need.
On the occasion, Luky Eko Wuryanto, AIIB Vice President and Chief Administration Officer, said, "Reaching the milestone of 500 diverse active staff members is a testament to AIIB's steadfast growth trajectory. Despite the recent global challenges, AIIB's employer brand remains resolute, attracting international talents and consistently increasing our headcount year after year. AIIB's corporate culture focuses on being highly responsive to its clients while maintaining high international standards as well as being a workplace fit for the best talent drawn from around the world where staff is trusted and empowered."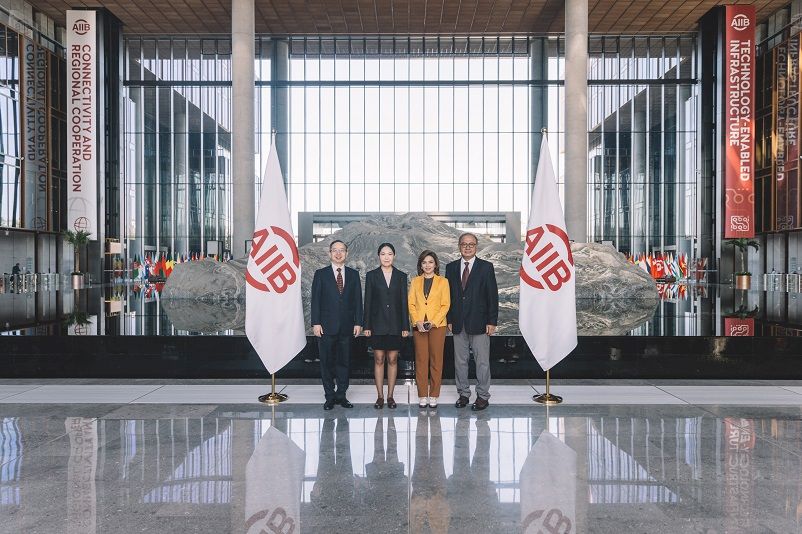 Since its establishment in 2016, the Beijing-based multilateral development bank has grown from 57 Members around the world to 106 Members as of end-2022, starting from 9 projects to 227 infrastructure projects as of August 2023, in various sectors, particularly in energy, transport and water, as well as those classified as multi-sector. It is also developing its business in the digital infrastructure and technology sector as well as in education, health and other productive sectors. A critical area of focus is climate finance; as an infrastructure bank, there is an imperative to support climate-resilient infrastructure.
With the expansion of projects comes the need for experts who can play a crucial role in identifying, evaluating, and implementing investment projects that contribute to the Bank's mission of financing Infrastructure for Tomorrow.
"Central to AIIB's growth strategy is strengthening its processes to attract, develop and retain high-performing staff while ensuring staff well-being, equal opportunities and staff development through on-the-job learning and sharing best practices," according to Asma Shaikh, Director General, Human Resources Department.
"We are always looking for experts who manage infrastructure projects, as well as those who have a background in in capital markets and structured products, financial institutions and syndication, private equity and private capital mobilization," according to Scott Fitzgerald, who is the Head of the AIIB Talent Acquisition Team. "These project teams need specialists to support them, and so alongside sector experts, we also welcome environmental and social safeguard specialists, climate specialists, portfolio management monitoring officers and operational procurement specialists, as well as other professionals in enabling functions to help keep the Bank running smoothly."
In addition to a competitive compensation and benefits total rewards package, qualified staff also benefit from career growth opportunities; exposure to diverse markets where they can build their network and expertise; a work environment that encourages innovation and collaboration; professional development programs to upskill capacity and human-centered programs focusing on wellness; and a rewards program that recognizes strong performance through annual performance increases, high performer awards, and a rigorous annual promotion process.
"AIIB is committed to be an employer of choice," said Shaikh. "We are focused on building an environment where staff are supported and empowered to achieve their potential, encouraged to share ideas and appropriately trained; a place where innovation is encouraged, and Management lives up to the Bank's leadership principles."
Responsiveness to staff well-being is a strategy that has been successful for AIIB as it is on track to grow by around 540 staff in 2024. "In 2022 alone, we welcomed 137 new members to our family" according to Fitzgerald. Even during the pandemic, which had been a challenging period for recruitment globally, the Bank was still able to onboard new staff members for critical infrastructure operations and support functions by embracing digitalization, remote work and flexible work arrangements, and travel support for staff and their families.
The Bank is also culturally diverse and welcoming, with Bank staff coming from 66 nationalities, and a growing contingent of women professional staff, currently 42% of the workforce. The Bank is resolutely committed to increasing these figures further, and to fostering an environment that champions gender equality and representation. In 2022, it received its Economic Dividends for Gender Equality (EDGE) reaccreditation at the Assess Level, which reinforces the Bank's commitment toward gender balance across its talent pipeline, pay equity, effectiveness of policies and practices to ensure equitable career flows as well as the inclusiveness of our culture.
Shaikh adds, "Staff should feel that AIIB is a high performing, open, multicultural and inclusive international workplace. AIIB's commitment to diversity and inclusion is ingrained in its fabric."
AIIB's recruitment team is embarking on a series of roadshows, virtual career events and other activities to actively expand its recruitment campaign to global candidates. In place are planned recruitment events for young professionals, as well as for talents located in Asia-Pacific, the African, Latin American and Caribbean economies, as well as activities to target skilled professionals in the climate, environment and social areas.
"We will build a global community of digitally connected world-class professionals with an extended family of clients, partners and stakeholders. Diversity is our strength, and we are united by common objectives, mutual trust, a collaborative culture, and a passion to build a financially sustainable bank that puts people and planet first. We commit to enable empowerment and innovation by having the appropriate balance between rules and creativity, where staff are motivated to achieve meaningful outcomes that matter most to our shareholders," said Shaikh.