Environmental, Social and Governance (ESG)
As a multilateral development bank committed to promoting sustainable development by investing in infrastructure projects in Asia and beyond, environmental, social and governance (ESG) issues rank highly on the Asian Infrastructure Investment Bank's (AIIB) corporate agenda and priorities.

AIIB's Environmental and Social Framework (ESF) is the cornerstone of its commitment to supporting environmentally and socially sustainable infrastructure projects for both sovereign and non-sovereign clients. The Vision section of the ESF describes the Bank's aspirations in integrating environmental and social sustainability into its mission. It is part of our mission to help our members to address their commitments to the Sustainable Development Goals (SDGs) and to achieve their nationally determined contributions under the Paris Agreement, as demonstrated by our investment in projects related to climate mitigation, climate adaptation and other environmental objectives. Please see ESG Credentials for more information.

AIIB has to date been rated by two ESG rating agencies; ISS-oekom and Sustainalytics. Corporate ESG ratings are the outcome of independent assessments which, unlike financial ratings which are solicited by the Bank itself (see Credit Ratings Reports), are solicited by investors as a tool to incorporate sustainability into their investment decisions.

ESG rating agencies assess the ESG credentials of AIIB and peer institutions based on a pre-defined set of criteria reflecting international standards and best practices. The same criteria are used for all institutions within an industry, making comparison possible.

AIIB's approach has been to actively engage with ESG rating agencies to ensure that their assessments reflect the Bank's ESG credentials to the extent possible. As a new institution, the Bank is also committed to adhering to the highest international standards by improving its policies and practices over time.
ESG Rating Agencies
ISS-oekom: C+ (Prime)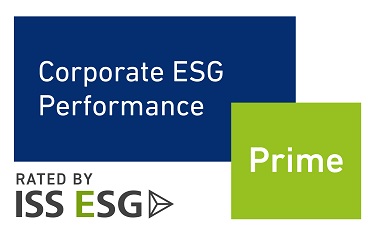 Download AIIB's ESG rating by ISS-oekom
here
.
Sustainalytics: 66/100 (Average Performer)