BEIJING, May 03, 2022
How Private Equity Investments Help Financing Infrastructure for Tomorrow
The Asian Infrastructure Investment Bank (AIIB) is a multilateral financial institution whose mission is financing Infrastructure for Tomorrow (i4t)—infrastructure that is green, technology-enabled and promotes regional connectivity. i4t reflects AIIB's firm commitment to sustainability, as AIIB aims to align and promote all its investments to be: (i) financially and economically sustainable; (ii) socially sustainable and inclusive; and (iii) environmentally sustainable. By investing in sustainable infrastructure, AIIB unlocks new capital, new technologies, and new ways to address climate change and to connect Asia, and the world.
Its Articles of Agreement provide that a variety of financing instruments are available at AIIB, including both debt and equity, which often have different roles to play in the capital structure of infrastructure projects and businesses.
What is Private Equity, and Why Does AIIB Invest in Private Equity?
Private equity refers to capital investments made into companies or assets that are not publicly listed or traded. It can be further classified in terms of several factors—for instance, stage of investment, nature of underlying assets, controlling or non-controlling stake, etc.
Compared to debt financing, private equity investments are uniquely positioned to achieve certain development impacts:
Private equity provides investors with a "seat at the table" and potentially more influence in the management and governance of the investees, which drives higher standards of corporate governance and transparency.
Private equity creates a multiplier effect for private capital mobilization. It is seen as an important alternative asset class, which attracts both asset owners and asset managers to participate.
Private equity enables innovation and development of capital markets through mergers and acquisitions and initial public offerings, as well as enhances companies' funding capacity.
Specific to AIIB's mandate in investing in i4t, private equity investment is a key product of its investment operations. AIIB's Strategy on Investing in Equity sets out that equity investments will be rigorously assessed to meet the twin goals of development outcomes and financial returns. Infrastructure private equity resembles other types of private equity in many aspects, but it is also unique as to the underlying infrastructure assets, which generally (i) bring stable cash flows and low volatility, (ii) offer a natural inflation hedge, and (iii) have low correlation with public capital markets. Therefore, an allocation to infrastructure is often considered for its good diversification to institutional investors' portfolios.
However, infrastructure still represents a relatively small portion of the private equity investment universe. As indicated in the chart below, infrastructure funds only account for less than ten percent in global fundraising across vintage years. Of course, this is a challenge given the substantial gap in infrastructure financing both globally and in Asia. However, it also presents opportunities to mobilize additional private capital for infrastructure.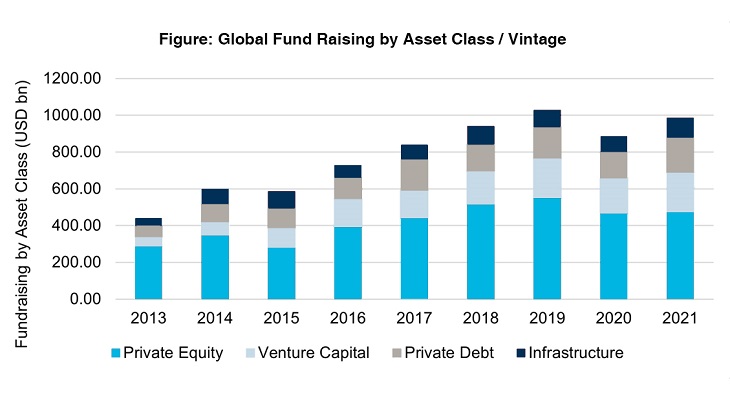 Source: Pitchbook, data updated as of end-February 2022
How AIIB is Helping to Make Infrastructure Investments More Sustainable?
One of the focuses of AIIB's Strategy on Mobilizing Private Capital for Infrastructure is to make infrastructure investments more accessible to investors and to develop emerging market infrastructure as an asset class. To achieve this overarching goal, it is vital to prove the attractiveness of infrastructure investments and highlight the relevance and importance of sustainability. AIIB makes equity investments on a highly selective basis, adhering to a clear direction and approach that aligns with AIIB policies, environmental and social standards and international best practices. AIIB strives to be a market leader in making infrastructure investment more green, inclusive and resilient.
To achieve impact at scale and maximize leverage of its capital resources, AIIB takes a phased approach to build up its equity investment program. Against this backdrop, AIIB started by investing through infrastructure funds managed by reputable fund managers with proven track records. To date, AIIB has approved around 20 equity investments, the majority of which are in infrastructure funds. Some selected transactions include AIIB's investments in (i) global emerging market infrastructure funds such as the Global Infrastructure Partners Emerging Market Fund I and the ISQ Growth Market Infrastructure Fund; (ii) regional and country-specific infrastructure funds such as the Keppel Asia Infrastructure Fund and the North Haven India Infrastructure Fund; and (iii) thematic funds such as Lightsmith Climate Resilience Partners and the SUSI Asia Energy Transition Fund. All fund investments have been considered for their commercial and development prospects.
As an example, in 2020, AIIB invested in Lightsmith Climate Resilience Partners, the first private equity fund to have focused on climate resilience and adaptation. The fund invests in growth-stage companies whose technologies can address the growing physical impacts of climate change, which represents an estimated total addressable market of over USD170 billion today. To date, Lightsmith Climate Resilience has made investments in a water harvesting technology company with an off-grid solution to produce affordable drinking water from sunlight and air, and an India-based agriculture and food supply chain services company applying physical automation and digital technology to reduce food wastage and improve farm output. By investing in green and technology-enabled infrastructure, while mobilizing private capital from global investors, AIIB's partnership with The Lightsmith Group is very well aligned with the thematic priorities of AIIB's Corporate Strategy. And with AIIB as its strategic partner, The Lightsmith Group is able to scale up and deepen its focus on applications of new and innovative climate resilient technologies for infrastructure.
This fund investment approach has proven to be mutually beneficial. By working with AIIB, fund managers are enabled to apply a more streamlined approach to enhance their sustainable investment process. And by working with selected fund managers, AIIB in turn has been able to build a profitable, impactful and well-diversified equity portfolio. Progressively, as AIIB builds upon sectoral expertise and internal capacity, it will move to make more co-investments with selected funds as well as more direct equity investments.
One example of the latter is AIIB's investment in Bayfront Infrastructure Management Pte. Ltd. (Bayfront) as part of the Infrastructure Private Capital Mobilization Platform project. Bayfront is a new platform business that purchases infrastructure loans from financial institutions and distributes them to institutional investors through securitization or other formats. AIIB, together with Bayfront, aspires to develop emerging markets infrastructure as an asset class through the creation of investable debt securities in the Asian infrastructure sector, namely infrastructure asset-backed securities (IABS). IABS can help bridge the infrastructure financing gap by allowing investors to invest in rated and listed debt securities backed by a diversified portfolio of project and infrastructure debt. In June 2021, Bayfront debuted their first issuance of IABS, including a sustainability tranche targeted at the growing pool of specialized green institutional investor portfolios. This evidently has mobilized a new pool of institutional capital for Asian infrastructure investment, as institutional investors have significant assets under management that could match the long-term nature of infrastructure assets. In turn, with Bayfront serving as a reliable and reputable off-taker of infrastructure debt, IABS also incentive financial institutions to redeploy freed-up capital to new infrastructure projects.
By investing in and working with partners like The Lightsmith Group and Bayfront, AIIB is able to extend its expertise and nurture green and technology-enabled infrastructure while mobilizing private capital from global investors. Entering its seventh year of operations, AIIB will build upon its commitment to sustainability, continue to invest in private equity, and finance Infrastructure for Tomorrow that facilities more green, resilient and inclusive development in Asia and across the world.