The Asian Infrastructure Investment Bank (AIIB) has signed a Memorandum of Understanding (MOU) with the German national promotional bank KfW and another with the Export-Import Bank of China (CEXIM) to strengthen collaborative ties as a means of facilitating economic, social and environmental support to its Members.
The MOUs with comparator financial institutions create opportunities for AIIB to tap into broader client connections and jointly finance projects in line with AIIB's thematic priority of Connectivity and Regional Cooperation.
The agreement between AIIB and KfW was signed in Washington, D.C. by AIIB Vice President, Policy and Strategy Sir Danny Alexander; Christian Krämer, Member of the Management Committee of KfW Development Bank, and KfW Secretary General Dr. Lutz-Christian Funke. Under the MOU, both AIIB and KfW will work closely on promoting joint initiatives related to climate and sustainable infrastructure, focusing on strategic sectors such as energy, transport and water, as well as urban and social development, for implementation across large parts of Asia, and Africa.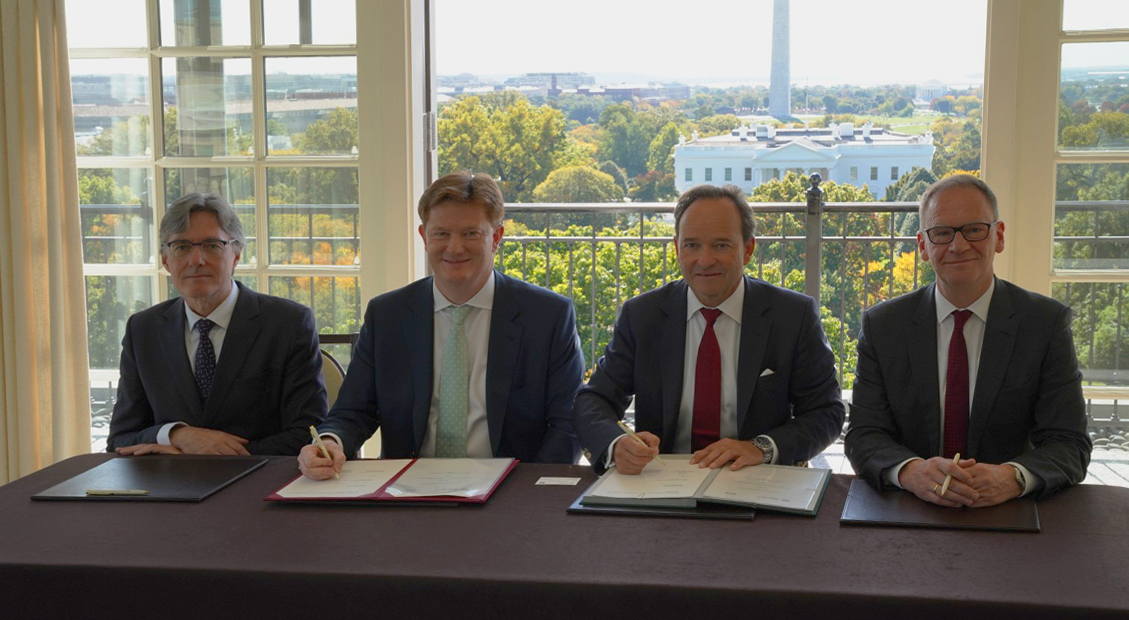 MOU signing ceremony with KfW in Washington, D.C., with representatives from both institutions joining physically.
AIIB continues to play a critical role in mobilizing private climate finance, particularly within emerging markets, through a number of innovative financing tools that contribute to the uptake of green and ESG investments. The collaboration with KfW will provide AIIB with new cofinancing opportunities, helping the Bank achieve its climate finance targets of 50 percent in actual financing approvals by 2025, as stated in the AIIB Corporate Strategy. The MOU is also aligned with the priorities of both institutions to improving the economic and environmental conditions of its Members.
"Our partnership with KfW will see AIIB supporting more initiatives related to climate and sustainable infrastructure," said AIIB VP Alexander. "Despite challenges in 2021, AIIB achieved a climate finance share of 48 percent in our mainstream business. We are incentivizing climate finance from private investors and building a private climate finance eco-system and we are now applying the Paris Alignment rationale in our selection of projects by considering a project's climate risk and collaborating with clients to mitigate them."
In Beijing, an MOU was also signed between AIIB and CEXIM by AIIB's Vice President and Corporate Secretary Ludger Schuknecht and CEXIM's Vice President Zhang Wencai, witnessed by AIIB President Jin Liqun and CEXIM Chairman Wu Fulin. Both AIIB and CEXIM will jointly work in various areas including climate and other financing related to the Sustainable Development Goals. The agreement with CEXIM will play a key role in helping AIIB extend support in meeting the specific needs and commitments of its Members. CEXIM's support for energy and infrastructure sectors in many developing countries is aligned with AIIB's investments in sustainable, climate-resilient infrastructure.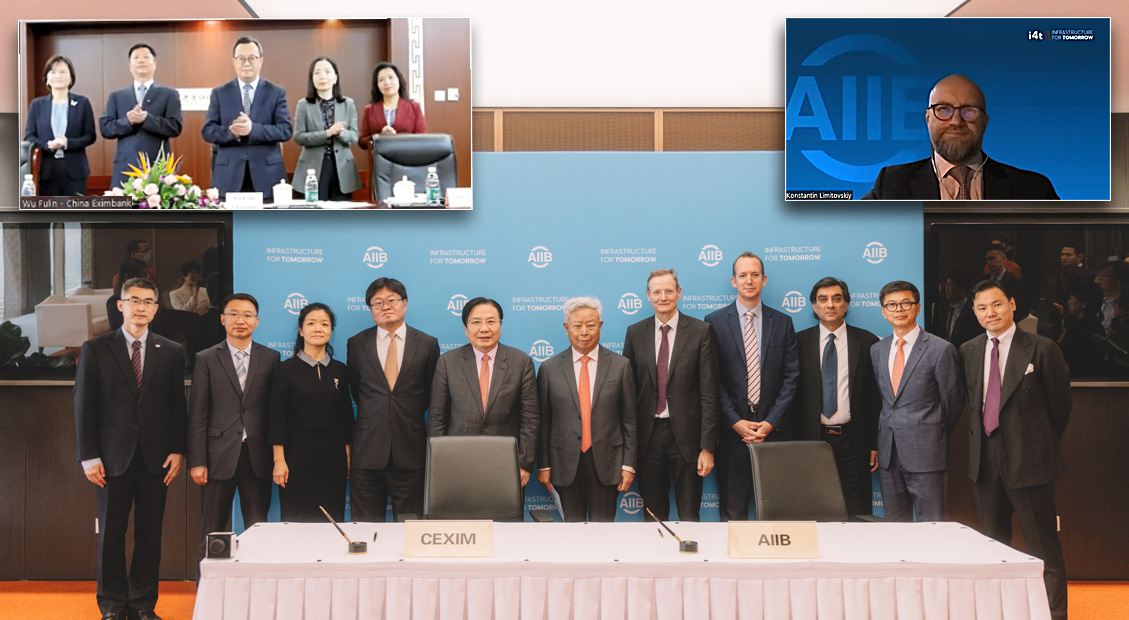 MOU signing ceremony with CEXIM at AIIB headquarters in Beijing, with respective representatives from both institutions joining virtually and physically.
"We look forward to further strengthening our collaboration with both KfW and CEXIM and fostering a deeper partnership in exploring common strategic areas of interest," said AIIB VP Schuknecht. "These MOUs will allow AIIB, KfW and CEXIM to leverage our respective resources in more effectively developing sustainable infrastructure projects. These partnerships will also enable AIIB to scale up efforts in unlocking capital to finance Infrastructure for Tomorrow."
The cooperation with CEXIM is expected to create opportunities for the Bank to tap into wide client connections and jointly finance projects, particularly for the thematic priorities of connectivity and regional cooperation set up in the Bank's Corporate Strategy. The MOU is in line with the common interest of both institutions with an emphasis on sustainable infrastructure.
About AIIB
The Asian Infrastructure Investment Bank (AIIB) is a multilateral development bank whose mission is financing the Infrastructure for Tomorrow—infrastructure with sustainability at its core. We began operations in Beijing in January 2016 and have since grown to 105 approved members worldwide. We are capitalized at USD100 billion and Triple-A-rated by the major international credit rating agencies. Collaborating with partners, AIIB meets clients' needs by unlocking new capital and investing in infrastructure that is green, technology-enabled and promotes regional connectivity.
About KfW
KfW is a promotional bank established in 1948. The Bank's underlying mission is to improve the economic, social and environmental living conditions across the globe, on behalf of the Federal republic of Germany and the federal states. With 80 locations worldwide, and a team of over 7,700, the Bank is committed to fostering sustainable development and improving livelihoods worldwide. In 2021, the Bank provided funds totalling EUR 107, 33% of which were allocated to climate and environmental protection. Its financing services and approach are aligned with the Sustainable Development Goals, as well as the United Nations' Agenda 2030. More information can be found at: https://www.kfw.de/kfw.de-2.html
About CEXIM
Established in 1994, China Eximbank is a state-funded and state-owned policy bank under the leadership of the State Council, committed to supporting foreign trade, investment and international economic cooperation. The Bank is the only provider of Chinese government concessional loans, playing a critical role in fostering economic growth. With offices in mainland China, Hong Kong, China, France, Africa, and St. Petersburg, the China Eximbank's financial support has gone towards facilitating industrial sectors, manufacturing, science and technology, as well as projects such as the Belt and Road Initiative. More information can be found at: http://english.eximbank.gov.cn/