BEIJING, December 30, 2022
Financing the Last Miles for Regional Connectivity
Multan, a city in east-central Pakistan with a population of around two million, is undergoing change for the better. Farm produce or perishable fruits would be transported faster. Sightseers would spend less time on the road, allowing them to appreciate Pakistan's ancient architectures. All this, thanks to enhanced transport connectivity.
Multan is famous for its mosques and shrines as well as its cotton crops and mangoes. Its distance from the capital, Islamabad, has been reduced by 110 kilometers (km), following the full operation of national motorway M-4, one of the government's flagship motorway projects and a key component of Pakistan's north-south transport corridor.
The new four-lane, access-controlled M-4 provides a faster, safer and more cost-effective transport route between Multan and Islamabad, and will help boost connectivity and facilitate regional trade. Residents along the motorway are expected to enjoy more economic opportunities through improved connectivity with other major industrial and commercial hubs of the country.
In September 2022, the Asian Infrastructure Investment Bank's (AIIB) project team visited the M-4 following the closing of loans for the section from Shorkot to Khanewal cofinanced by AIIB and the Asian Development Bank (ADB). Although the team has made several field visits to the project site as part of their due diligence and project monitoring process, this time the visit was unusual. There was so much to reflect upon and celebrate—the 64-kilometer Shorkot-Khanewal project was one of AIIB's first projects approved. It is AIIB's first project cofinanced with ADB and AIIB's first completed project in Pakistan.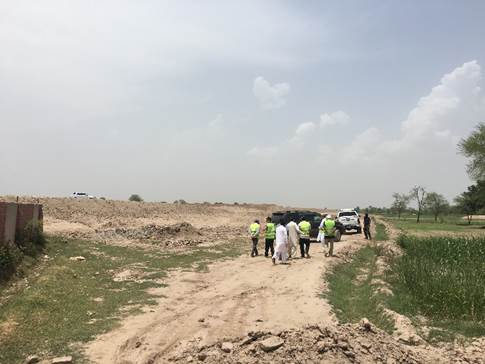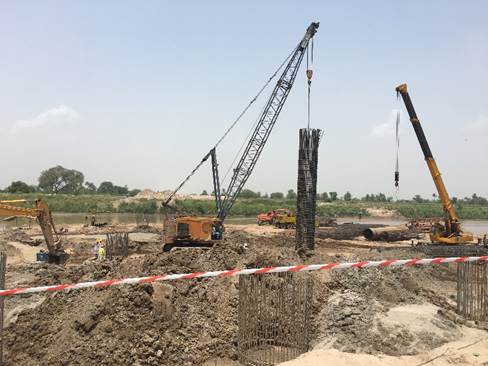 The project's first implementation mission in June 2017 (Photo by Anzheng Wei, Senior Investment Officer, AIIB).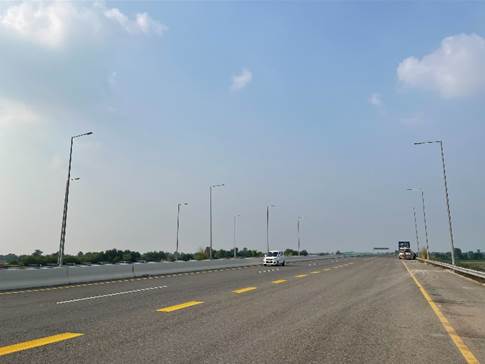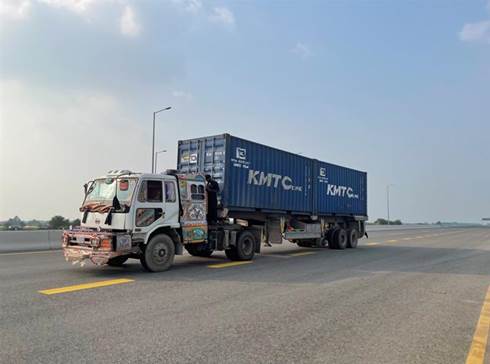 Project completion site visit in September 2022 (Photo by Yaxin Yan, Investment Operations Specialist, AIIB).
Since it is in line with AIIB's mandate of financing infrastructure development and promoting regional connectivity, in 2016 AIIB's Board of Directors approved USD100 million financing for the project estimated at USD273 million. At closing after four-year implementation, the project realized saving of 19.7 percent from estimated costs to actual costs1. Despite its complexity, the project was completed on time in compliance with required technical specifications and design speed under concerted efforts by the client and the project team. Moreover, several outcome indicators surpassed the originally-set targets. It is estimated that toll revenue would be sufficient to cover operation and maintenance costs of the road over the project's life period.
Pakistan is one of the founding members of AIIB. To date, AIIB has had nine approved projects in Pakistan with a total commitment amount of USD2.2 billion. The country maintained stable economic growth in the pre-COVID-19 pandemic years. Data from the International Institute for Sustainable Development2 showed the transport sector contributes to about 13.7 percent to gross domestic product and 5 percent of total employment in Pakistan. Much of the country's 12,500 km of national highway network was built before the 1950s. To reduce traffic load on the heavily used national highways, the government began building high-speed, access-controlled national motorways in the 1990s. By 2016, around 900 km of the planned 2,800 km were operational.
"Pakistan has made tremendous efforts to modernize transportation infrastructure and establish an efficient and integrated transportation system that will facilitate the development of a more prosperous economy. AIIB is committed to helping the country on its path toward increased connectivity and prosperity by working in partnership and being responsive to clients' needs," said Konstantin Limitovskiy, AIIB Vice President, Investment Operations (Region 2).
As AIIB's first investment in Pakistan, this loan was a pathfinder. It provided the Bank with valuable learnings for financing the transport sector—as well as for working with development institutions—through the pioneering partnership with ADB. The approval of the project preluded the signing of a cofinancing framework between AIIB and ADB, under which the two institutions pledge to cooperate in a wide range of sectors including energy, transport, communications, etc.
"The completion of the Shorkot-Khanewal project demonstrated the power of partnership in promoting connectivity and creating win-win solutions for all parties involved," said Gregory Liu, AIIB Acting Director General, Infrastructure Investment Department (Region 2). "As our portfolio grows, our partnership with ADB will continue to strengthen."
"We are pleased to see that the partnership between ADB and AIIB is bearing fruit with the completion of the project," said Yong Ye, ADB Country Director for Pakistan. "ADB is committed to helping Pakistan reduce poverty and promote inclusive economic growth and we look forward to closer partnership with AIIB in narrowing the infrastructure financing gap in Asia."
1 At completion, the actual cost of the project was USD190.99 million and AIIB provided an aggregated loan of USD80.3 million.
2 Greenhouse Gas Mitigation Options for Pakistan: Transport Sector. Link.