BEIJING, August 19, 2021
Mobilizing Private Capital
for the Energy Transition in Asia
Energy Sector Transformation in Asia – Aspiration Versus Reality
The global energy system will have to undergo a major structural transformation in a very short period to meet the climate goals under the Paris Agreement. This transition can be felt across the entire energy supply chain and in all sectors (e.g., power, industry, transport, buildings), by moving from fossil fuels to renewable energy, from energy wastage to greater energy efficiency, from old technologies to new innovative and smart zero-carbon technologies, and from fossil fuel extraction to mining only for essential minerals.
At the Asian Infrastructure Investment Bank (AIIB), we recognize that countries cannot keep investing in the same infrastructure as in the past. Therefore, our Corporate Strategy is centered on Financing Infrastructure for Tomorrow.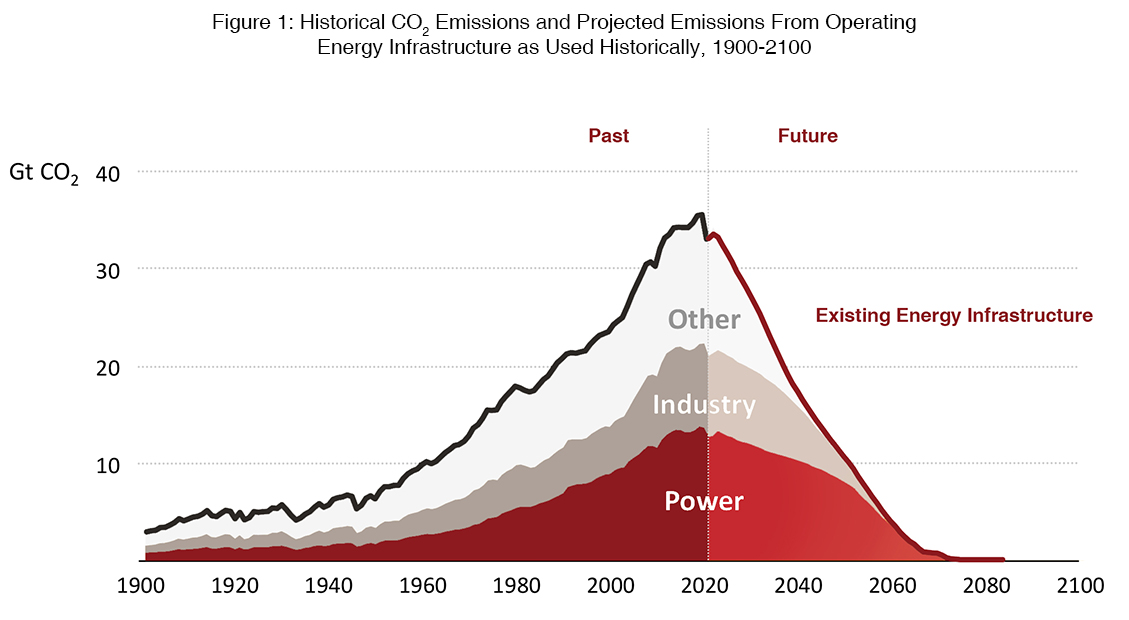 Gt CO2 = gigatons of carbon dioxide emissions
Adapted from: International Energy Agency. 2020. World Energy Outlook 2020.
The pace of the energy transition will differ across countries depending on their level of development. For example, in the Asia-Pacific region alone, there are still 143 million people without access to electricity and 1.5 billion without access to clean cooking facilities. This means millions of low-income households are still using coal, kerosene or biomass for cooking which is detrimental to the quality of indoor air and is associated with health risks, primarily for women and children who spend the most time, and are therefore the most exposed, to indoor pollution. Providing access to basic energy infrastructure and 24/7 electricity is yet to be fully addressed in the region. AIIB is supporting countries such as India to increase the availability of gas for cooking, and is investing in electricity transmission and distribution projects in Bangladesh, India, Indonesia and Nepal.
More importantly, not all countries have a wealth of natural resource endowments (e.g., sun, wind, rivers), and mature financial markets to attract considerable private capital. AIIB can play a key role in addressing these major challenges by: (i) investing in high quality infrastructure which delivers economic, social, and environmental benefits, (ii) enhancing regional power connectivity to allow sharing of renewable resources across neighboring countries, and (iii) catalyzing and mobilizing private capital to bridge the gap towards clean and renewable energy solutions.
The Future Energy Investment Needs
The energy transition will require additional investments compared to business as usual. However, not all countries can afford it, even though the cost of inaction will be much higher when dealing with climate change impacts.
Therefore, private capital, and more of it, is needed more than ever. For example, the International Energy Agency (IEA), under their Sustainable Development Scenario, estimates that electricity demand will double across Asia by 2040, with cumulative energy investment needs of USD21.9 trillion by 2040 (about USD1.1 trillion per year), of which 28 percent will be in fossil fuels and 72 percent in power (both grids and generation). Of the USD15.8 trillion cumulative investment in power (about USD0.8 trillion per year), approximately USD8.5 trillion will be in electricity grids to meet increasing electrification needs for all sectors, USD7.1 trillion in renewable energy and USD0.8 trillion in gas power by 2040.
To help put these huge energy investment needs for the Asia region into perspective, Figure 2 shows the actual progress in global investment in clean energy and energy efficiency over the last four years—well below the projected demand of USD0.8 trillion per year.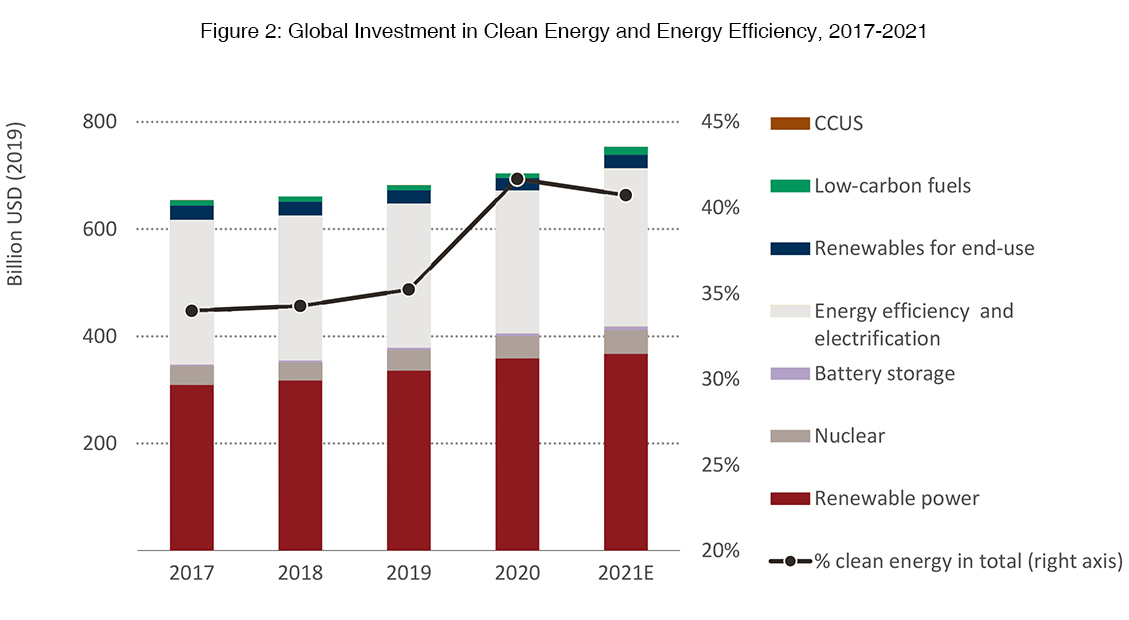 CCUS = carbon capture, utilization and storage
Adapted from: International Energy Agency. 2021. World Energy Investment 2021.
Nevertheless, it is expected that clean energy investments will rapidly accelerate with rising numbers of more ambitious nationally determined contributions and increasing commitments to net zero.
How Can AIIB Support the Energy Transition?
AIIB is already helping its members in their transition towards a low-carbon energy mix through investments in renewable energy, energy efficiency and reduction of carbon emissions from fossil fuels. In parallel, AIIB will need to continue to pay attention to the needs of its less developed members and adjust its approach as new technologies emerge so that no members are left behind in their transition.
That is why AIIB is investing in catalytic projects to mobilize private capital for sustainable energy infrastructure. Notwithstanding the extensive private capital investment that can potentially be attracted, the current participation of private capital in Asian infrastructure is quite low, with the large Asian institutional investor pool untapped. There is a significant need for AIIB's catalytic role to increase private and other investors' appetite for investing in the energy transition in emerging markets and developing economies, which becomes even more important at times of increased financial distress and economic downturns when private capital withdraws from these markets.
One example to illustrate how AIIB can mobilize capital for the energy transition in Asia, even in times of crisis like the ongoing COVID-19 pandemic, is the SUSI Asia Energy Transition Fund, which targets clean energy infrastructure investments across renewable energy, energy efficiency, energy storage and microgrids. With AIIB as its anchor investor, the fund has raised commitments from development finance institutions including the Dutch entrepreneurial development bank FMO, Norfund, and Swedfund, as well as from private institutional investors from Germany and Singapore. The Fund's first portfolio investment is a joint venture with Malaysian energy company InvestEnergy, dedicated to financing and operating energy-saving infrastructure projects across Southeast Asia. The primary target investments for the joint venture are bespoke waste-heat-recovery as well as co- and trigeneration systems for commercial and industrial offtakers.
Another example is the Zhanatas 100 MW Wind Power Plant, a project to develop, construct, and operate a 100 megawatt (MW) wind farm in Southern Kazakhstan which, when completed, will be the largest in Central Asia. By adding 100 MW of wind generation capacity to Kazakhstan's electricity sector, the project will deliver climate mitigation benefits through increasing the share of renewable energy generation in the country's power system. AIIB arranged the project financing, which is co-financed with the European Bank for Reconstruction and Development, Green Climate Fund, and Industrial and Commercial Bank of China.
Finally, there is the L&T Green Infrastructure On-Lending Facility, which will increase the supply of renewable energy in India by mobilizing private capital from sponsors, other financiers and L&T Infrastructure Finance Company Limited's own sources. The project supports AIIB's Energy Sector Strategy and Strategy on Mobilizing Private Capital for Infrastructure, and is aligned with the Government of India's plans to reduce the country's carbon intensity by 30 to 35 percent of 2005 levels by 2030 under the Paris Agreement. India will need to increase the share of non-fossil fuels in its energy mix if it is to achieve this target, and investment in renewable energy is an efficient way for the country to reduce its carbon intensity while meeting its growing energy needs.
Climate change is undoubtedly one of the most pressing global challenges of this century. To achieve the desired and steep reduction in global greenhouse gas emissions and to adapt to climate change, energy infrastructure will face a dramatic transformation. As a major and growing contributor to global greenhouse gas emissions, Asia's sustainable and green development pathway will be crucial for achieving the Paris Agreement objectives. This calls for substantial investments in the energy transition and for helping countries to quickly leapfrog to clean, modern, and affordable energy technologies.