An array of leading industry experts gathered at the Abu Dhabi Energy Center on Aug. 29 to discuss how best to scale-up crucial finance for climate action.
Co-hosted by the Asian Infrastructure Investment Bank (AIIB) and the Government of the United Arab Emirates (UAE), this event, with the theme "Mobilizing Financing from Sovereign Wealth Funds and Institutional Investors to Address Climate Change," took place in anticipation of AIIB's 2023 Annual Meeting in Egypt on Sep. 25-26, and the 2023 Conference of the Parties to the UN Framework Convention on Climate Change (COP28).
With keynote addresses by high-level speakers and panel discussions with leading climate finance experts, the event provided a platform to explore important topics around climate financing, including how best to create project pipelines for successful private financing in developing economies and how to further enable institutional investors to deliver and mobilize large-scale capital for climate.
This event was kicked off with a bilateral exchange between Sir Danny Alexander, AIIB's Vice President for Policy and Strategy, and COP28's CEO, H.E. Dr. Adnan Amin, who both shared visions about how the AIIB and the COP28 Presidency can enhance collaboration to work together to scale-up clean energy investments in Asia and beyond. The forum built upon productive exchanges that took place between the two organizations during COP27 in 2022.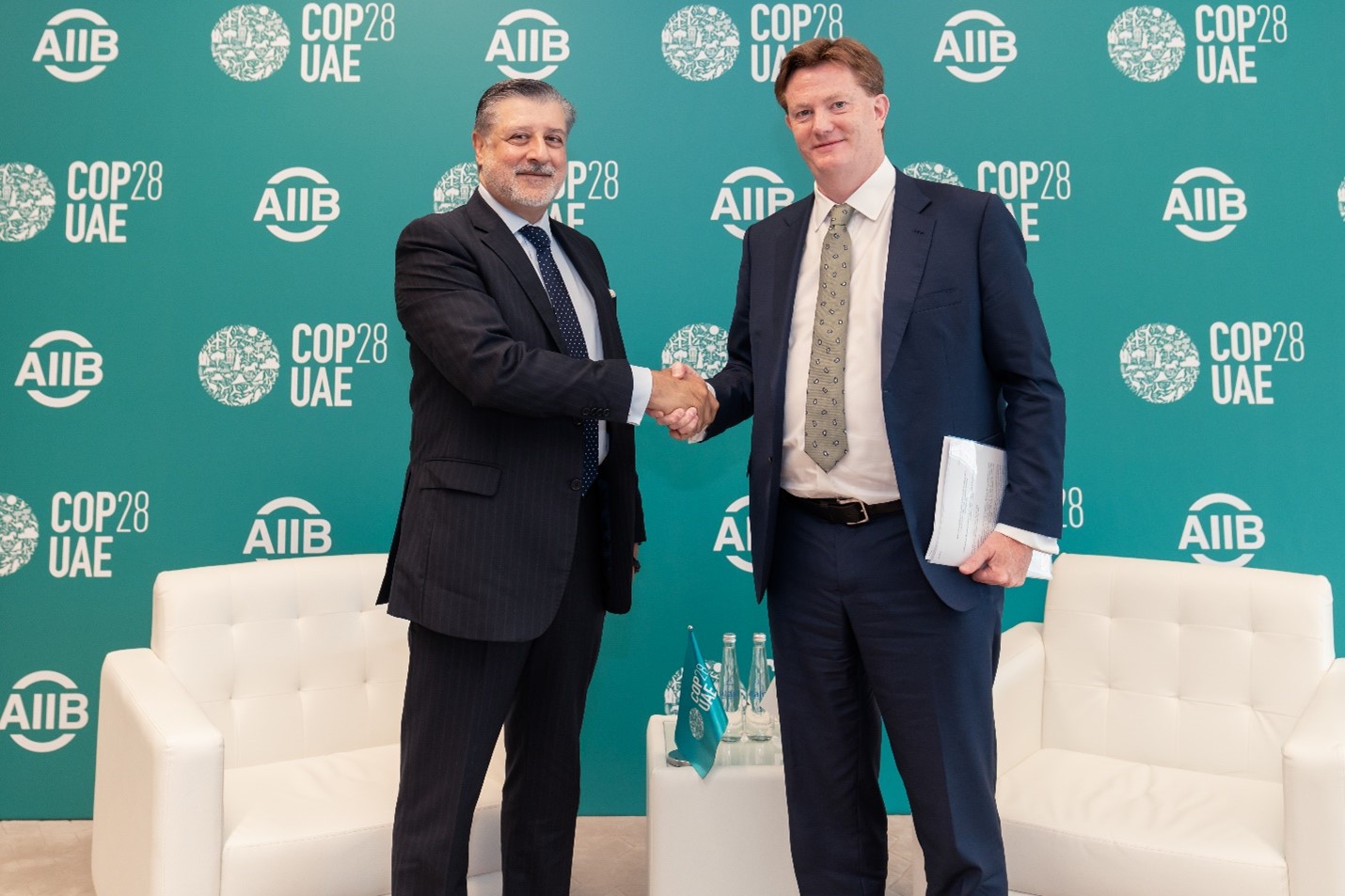 The discussion on how to enhance collaboration is a response to the urgent need for increased financing to tackle the climate crisis, particularly in Asia. Given the urgent challenges being experienced in achieving the Paris Agreement goals, AIIB and the COP28 Presidency are keen to deepen their cooperation in the lead-up to COP28, to be held in Dubai beginning Nov. 30, 2023.
Through this cooperation, AIIB and the COP28 Presidency will work together to develop innovative financing mechanisms to mobilize private and institutional capital at scale. As part of these efforts, AIIB will engage its partners to initiate a new blended finance structure to mobilize capital into climate-driven initiatives. This reflects a strong willingness to foster greater momentum and deliver more by combining resources, experience and influence to maximize development impact.
About AIIB

The Asian Infrastructure Investment Bank (AIIB) is a multilateral development bank whose mission is financing the Infrastructure for Tomorrow—infrastructure with sustainability at its core. We began operations in Beijing in January 2016 and have since grown to 106 approved members worldwide. We are capitalized at USD100 billion and Triple-A-rated by the major international credit rating agencies. Collaborating with partners, AIIB meets clients' needs by unlocking new capital and investing in infrastructure that is green, technology-enabled and promotes regional connectivity.
About the UAE COP28 Presidency
COP28 UAE will take place at Expo City Dubai from November 30-December 12, 2023. The Conference is expected to convene over 70,000 participants, including heads of state, government officials, international industry leaders, private sector representatives, academics, experts, youth, and non-state actors.
As mandated by the Paris Climate Agreement, COP28 UAE will deliver the first ever Global Stocktake – a comprehensive evaluation of progress against climate goals.
The UAE will lead a process for all parties to agree upon a clear roadmap to accelerate progress through a pragmatic global energy transition and a "leave no one behind" approach to inclusive climate action."