BEIJING, December 14, 2021
AIIB Shows Support for Climate Agenda at COP26
The 2021 United Nations Framework Convention on Climate Change Conference of the Parties (COP) was hosted by the United Kingdom in Glasgow (COP26) and the Asian Infrastructure Investment Bank (AIIB) was present to do its part.
AIIB announced in October that it would align its operations with the goals of the Paris Agreement by July 1, 2023. The Bank currently estimates its cumulative climate finance approvals to be USD50 billion by 2030. Earlier in January, AIIB said it would target at least a 50-percent share of climate finance in actual financing approvals by 2025. AIIB's Paris alignment announcement marks an important step toward achieving this goal.
COP is the world's largest climate change gathering, where the Paris Agreement was supported by almost all countries in 2015 (Paris, COP21). The core objective of COP26 is for negotiators from 197 countries to progress critical issues such as finance, mitigation, adaptation, carbon markets, loss and damage, transparency and accountability. COP26 is considered a critical opportunity to realize ambitious actions to keep the 1.5°C Paris goal alive.
COP26 results and outcomes
At COP26, heads of states from developed and developing countries stressed the importance and urgency to act on the global climate challenge. Over 150 countries submitted new or updated Nationally Determined Contributions (NDCs) and more than 130 countries pledged to reach net-zero emissions by around mid-century.
However, the latest UNEP Emissions Gap Report and Addendum found new and updated NDCs take 7.5 percent off predicted 2030 emissions, compared to a 55-percent reduction needed to meet the 1.5°C Paris goal. Latest unconditional climate promises for 2030 put the world on track for a temperature rise of 2.5 to 3.3°C by the end of this century. To keep the 1.5°C goal alive, the Glasgow decision calls on countries to "revisit and strengthen the 2030 targets in their nationally determined contributions as necessary to align with the Paris Agreement temperature goal by the end of 2022."
On mitigation, the Glasgow Climate Pact marked the first time "phasedown of unabated coal power and phase-out of inefficient fossil fuel subsidies" were explicitly mentioned, helping to accelerate the clean energy transition. Transport sector decarbonization was helped by the Glasgow Declaration on Zero-Emission Cars and Vans signed by over 100 national governments, cities, states and major businesses to end the sale of internal combustion engines by 2040 worldwide. In the Global Methane Pledge, over 100 countries committed to reducing overall methane emissions by 30 percent by 2030, compared with 2020 levels. The bilateral China-US joint Glasgow Declaration also stressed the importance of curbing emissions of methane, among accelerated actions committed by both countries in the critical decade of the 2020s. On carbon pricing, governments have—after five years of talks—finally settled on the rules for the global carbon market under the Paris Agreement's Article 6.
Progress was also made on adaptation and nature. To help the lowest-income and most vulnerable countries improve climate resilience, developed countries agreed to at least double funding for adaptation by 2025 to USD40 billion, addressing the long-standing imbalance of available financing for mitigation over adaptation. Recognizing the key role nature can play in promoting mitigation and adaptation actions, over 100 countries committed to halt and reverse forest loss and land degradation by 2030, covering 85 percent of the world's forests and paving the way for further linkages between climate and biodiversity at the Kunming COP15 in 2022.
AIIB at COP26
AIIB Vice President for Policy and Strategy Danny Alexander, Chief Financial Officer Andrew Cross and Strategy and Policy Officer Sáni Ye Zou represented AIIB at COP26, the Bank's first-ever COP attendance. Extensive engagements were organized with stakeholders, including speaking sessions at events organized by the United Kingdom, peer multilateral development banks (MDBs) and AIIB, along with media interviews and bilateral meetings with AIIB Members and business partners.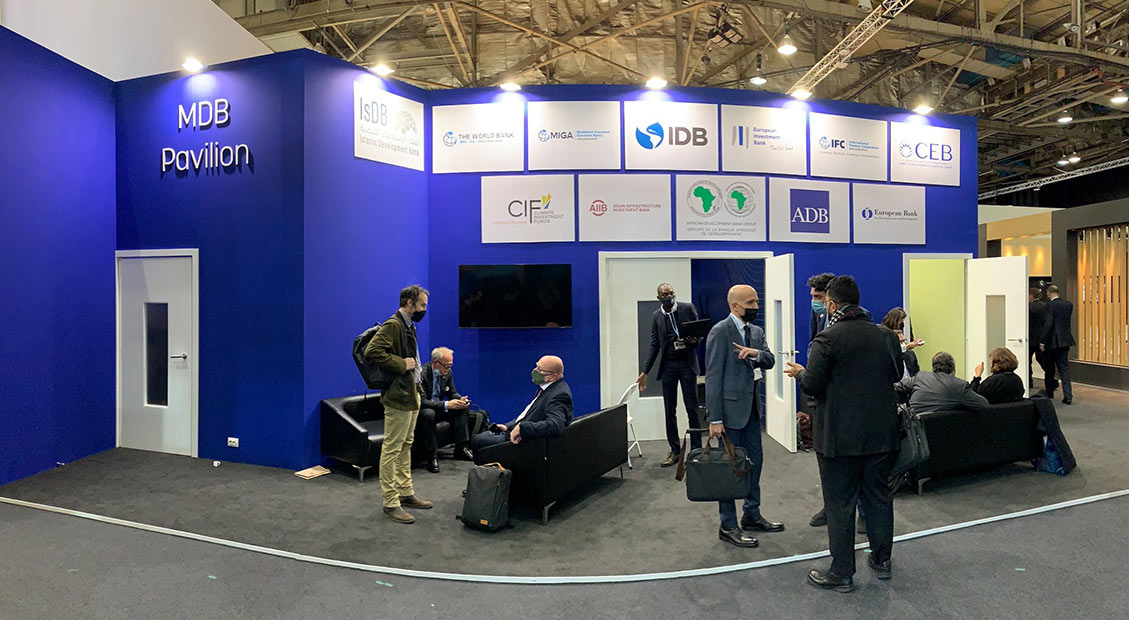 Vice President Danny Alexander communicated AIIB's green credentials, climate commitment and the Bank's vision in helping clients respond to the climate crisis while still enjoying the benefits of economic development. At the discussion on the role of MDBs in delivering climate finance for emerging and developing countries, AIIB shared the Bank's approach and achievement in mobilizing private capital. To stress the importance of private capital mobilization, AIIB and the European Bank for Reconstruction and Development (EBRD) co-organized the event on Mobilising the Private Sector for Climate-Friendly Infrastructure, where MDBs represented by AIIB, EBRD and IFC and HSBC and Amundi from the private sector discussed opportunities for mobilizing private capital for climate-friendly, sustainable infrastructure through the development, demonstration and dissemination of innovative financing instruments and other financial market solutions for low-carbon and climate resilient investments.
To respond to another threat mostly relevant to Asia and the Pacific, AIIB and the Asian Development Bank (ADB) organized the event Scaling up Adaptation Finance in Asia and the Pacific Region. The event discussed the challenges and opportunities for unlocking public and private capital for adaptation finance in Asian-Pacific counties most prone to the impacts of climate change and the role AIIB and ADB could play to support their clients in reducing climate vulnerability and building resilience.
MDBs in general have been playing an essential role in supporting the climate change agenda at COP26. For example:
On behalf of all MDBs, World Bank President David Malpass announced the Collective Climate Ambition - A Joint Statement at COP26 by the Multilateral Development Banks during the World Leaders' Summit. It summarizes MDBs' existing climate finance, inter alia, pathways to raise climate ambition for COP26 and beyond. As the current Chair of the Heads of MDBs, AIIB President Jin Liqun played an instrumental role in conceiving the statement and shaping the preparation.
Paris Alignment is a key MDB focus at COP26. Together with the African Development Bank, AIIB Vice President Danny Alexander participated in the high-level opening dialogue of the Progress Report: Multilateral Development Banks Working Together for Paris Alignment. Led by the European Investment Bank, this event kicked off a series of technical events and updates on MDBs' progress on the joint Paris Alignment framework approach.
MDBs, including AIIB, launched a joint statement on Nature, People and Planet. The statement commits MDBs to mainstream nature across all our policies, analyses and investment operations in line with each MDB's respective mandates and operating models while setting out institutional strategic approaches by 2025 to this end.
These examples show that, individually and as a collective, MDBs were in the spotlight at COP26 to highlight their initiatives, and AIIB was there to demonstrate leadership on climate actions together with the MDB community. Going forward, AIIB will continue to support its members in achieving their climate ambitions through its financing and in collaboration with peer MDBs and partners from the public and private sector.