Constituency Members:
Austria, Belgium, Cyprus, Finland, France, Germany, Greece, Ireland, Italy, Luxembourg, Malta, Netherlands, Portugal, Spain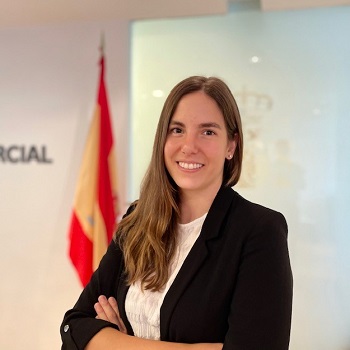 Director
Ana SOBRINO (Spain)
Ms. Ana Sobrino was appointed as member of the AIIB Board of Directors on July 1, 2021. Before her appointment, she served as Advisor for her constituency. Ms. Sobrino currently holds the position of Assistant Deputy Director in the Deputy Directorate for Multilateral Financial Institutions, General Secretariat of the Treasury and International Finance, in the Ministry of Economic Affairs and Digital Transformation of Spain. Prior to this, she served in the Deputy Directorate for Trade Policy of the European Union, Secretariat of State of Trade in the Ministry of Industry, Trade and Tourism of Spain. She holds a double degree in Law and Business Administration and entered the High Corps of Spanish State Economists and Trade Experts in 2017.
Alternate Directors
Camillo von MÜLLER (Germany)
Enrique GALÁN (Portugal)
Advisors
Nicoleta ANTONIOU (Cyprus)
John AQUILINA (Malta)
Philippe BOOL (Netherlands)
Fabrizio COSTA (Italy)
Katharina HERMANN (Austria)
Sophie LAVAUD (France)
Sami MASRI (Luxembourg)
Philippe NIZEYIMANA (Belgium)
Paul RYAN (Ireland)
Kristina SARJO (Finland)
Achilleas TZIMAS (Greece)